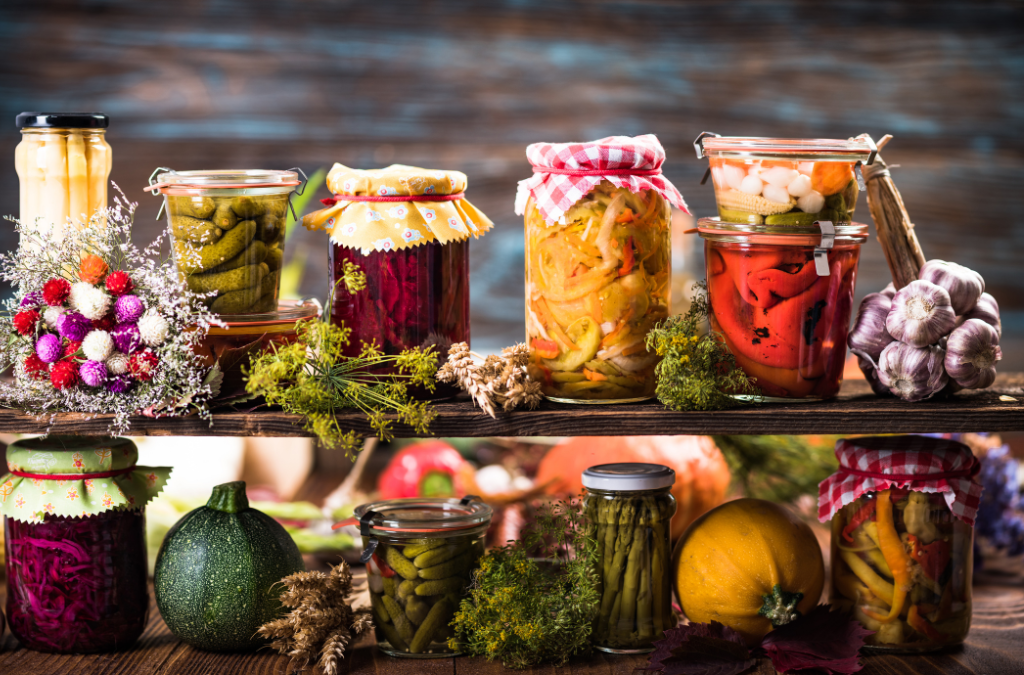 As the summer season slowly comes to an end, it is finally time to harvest the ripe produce from your backyard garden. After months of watering and tending to your plants, you can finally include fresh and pesticide-free zucchinis, cucumbers and roma tomatoes into your home-cooked meals.
But the fruits of your labour won't stay fresh for long. Instead of chopping and storing your produce in the freezer, consider pickling — it is a great alternative to extend the shelf life of your fruits and vegetables while creating a unique taste with additional spices and flavourings. Pickles such as sauerkraut (shredded cabbage) can add an extra zing to sandwiches, subs, and salads, and can even be enjoyed as a hearty snack on a cold winter day.
If you don't have a garden, use produce from your weekly Fresh Routes grocery haul!
What does the pickling process do to your food?
While sitting in your acidic brine, your produce undergoes anaerobic fermentation, which changes its chemical properties. In the absence of oxygen, microorganisms break down the vegetable/fruit and alter its original flavour. The hostile environment — due to the high salt concentration and acidity — kills harmful bacteria while nutrients such as vitamins A and K are left behind.
Who should avoid pickles?
Since a salt-water brine has a high amount of sodium, people with pre-existing cardiovascular issues should limit consumption or consult their doctor before incorporating pickles into their weekly meal plan. Alternatively, using a higher concentration of vinegar can provide a low sodium option. 
Fruit pickles such as peaches, apples, and lemons can contain high amounts of sugar, which may not be suitable for a diabetic diet.
How long are pickles safe to eat?
Most pickles can stay in the refrigerator for up to two months. Canned pickles are safe for two years. Once the cans are opened, however, the pickles must be stored in the refrigerator. Be sure to follow the brine measurements exactly and sterilize pickling jars to avoid the growth of harmful bacteria over time.  
What types of vegetables can I pickle?
Cucumbers, peppers, asparagus, beets, and beans usually lend well to pickling. Hearty fruits such as cherries, peaches, apples, and lemons can deliver powerful flavours once pickled with high amounts of sugar. Ultimately, any food can be pickled so long as it is not already cooked.
With all that said, here are two easy to follow pickling recipes for your excess fruits and vegetables!
Vegetable Pickling Recipe
Low sugar and sodium. Source: the kitchen

Ingredients
1 pound fresh vegetables, such as cucumbers, carrots, green beans, summer squash, or cherry tomatoes

2 sprigs fresh herbs, such as thyme, dill, or rosemary (optional)

1 to 2 teaspoons whole spices, such as black peppercorns, coriander, or mustard seeds (optional)

1 teaspoon dried herbs or ground spices (optional)

2 cloves garlic, smashed or sliced (optional)

1 cup vinegar, such as white, apple cider, or rice

1 cup water

1 tablespoon kosher salt, or 2 teaspoons pickling salt

1 tablespoon granulated sugar (optional)

Two jars with lids
Instructions
Cut the vegetables into their desired sizes. Keep in mind that pickles decrease in size while in the brine.  

Add your herbs and spices into the two jars, distributing evenly.

Stack the vegetables into the jars, leaving a half inch of space from the rim of the jar. 

Put the vinegar, salt, water, and sugar into a small saucepan and bring to a boil to dissolve the salt and sugar. 

Pour the brine over the vegetables, once again leaving a half inch from the top. 

Tap the jars to remove all air bubbles and add more brine if necessary. Then, seal the jar.

Once the jars cool to room temperature, store in the refrigerator. Wait at least 48 hours before opening.
Storage
The pickles will last in the refrigerator for up to two months since they are not canned. Though freezing is an option, the pickles may degrade in quality and will only last for two weeks after defrosting. 
For those who are interested in canning and prolonging your pickles' shelf life, here are some helpful websites that will walk you through the process:
Nana's Southern Canned Pickled Peaches
Source: Allrecipes

Ingredients
4 cups white sugar

1 cup white vinegar

1 cup water

2 tablespoons whole cloves

4 pounds fresh clingstone peaches, blanched and peeled

5 (3-inch long) cinnamon sticks

5 quart-sized jars, with rings for canning
Instructions
Boil sugar, water, and vinegar in a large pot for 5 minutes, or until the mixture forms into a syrup. 

Press one to two cloves into each peach and place in the boiling mixture. 

Boil for 20 minutes, or until tender.

Place peaches into the sterilized jars and fill the jar with the syrup within ½ inch of the rim. 

Insert one cinnamon stick into each jar. 

Seal the jars and lower them into a large pot of boiling water. The water should cover the jars up to one inch. Cover the pot and let the jars seal for 10 minutes. 

Remove the jars from the pot and let them reach room temperature. 
Storage
Since this recipe cans the peaches, the jars can be stored in a cool and dark place. Once opened, they must be stored in the refrigerator. 
Once you pickle your first pickle, the possibilities are endless. The delicious snacks you create will be healthy alternatives that can be enjoyed for many seasons. 
We'd love to see your pickling masterpieces! Share your success on social media and make sure to tag us @FreshRoutes and use the hashtag #GoodFoodRecipe for a feature!
Author: Nazeefa Ahmed